WP Snowball: Log
Main Log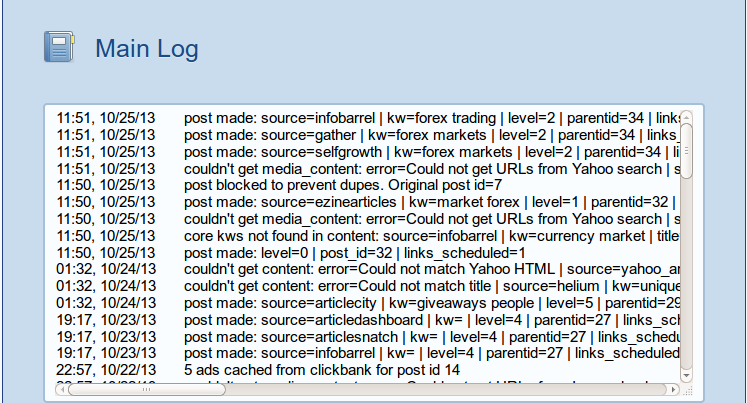 This is the main log that gets written to when WPSB is functioning. The main log contains what happened, when and what the outcome was.

You shouldn't worry if there's a few error here and there - if you've got lots of errors then that suggests something's wrong.

The most common errors you'll see here are:

Couldn't get content - this suggests that the seed post you made is very short - and WPSB could not find keywords (try setting keywords to 'category' in the settings)
core kws not found in content - this means that the content failed to match your core keywords, so the article was rejected (if this happens often, try changing your core keywords for something more suitable)



Post Cron Log


This log shows in the in depth process that's happened when the last post cron ran. This gets re-written every time a new level is made (when your posts are made)

This will show everything from getting the content, media and ads - and the time taken. The post log is mainly for de-bugging as any errors that've occurred appear here.



Click Log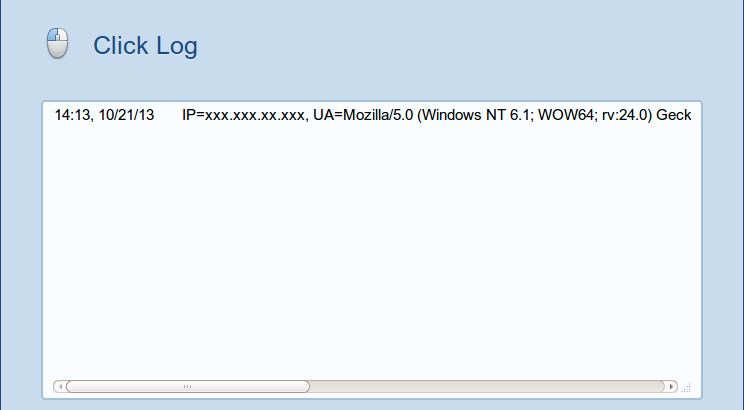 This will display the clicks you've had through to affiliate offers. These get written when WPSB logs a click though to a monetization source.

This displays the time, IP, user agent etc and which link they clicked and where they went.



Link Cron Log


Here you'll see log information from the most recent link cron. It shows messages at each point of making the link, and any error messages will get displayed here. This gets written to the log whenever a link is created (remember they're set for the future so this won't necessarily be when you post or when new levels are triggered)



Ad Cron Log


Here you'll see the log for the ad cron. Every time a post is created, it needs to collect information to display as an ad. here you can see what WPSB does, and how it searches for the ad. If anything goes wrong with collecting the information - it will be displayed here. Note that only the last ad cron is displayed here.



Clear All Logs


If you click this - all log data will be cleared. You may want to do this if you're monitoring a problem and only want to see events from this time.

Note: This is irreversible - so copy the logs if needed.
Tweet