Dashboard
As you'll see, the Dashboard is the main area of WPL, and you can see all your stats at a glance. The dashboard is split up into the following sections...
Links acquired
All the links that have been successfully placed are here. This includes every link that makes up your link networks. You'll see this number getting bigger over time. As soon as WPL checks that the submission it's processing has given a successful link, this will be logged in the queue tab, and reflected in this number.
Steps pending
In this section it shows you how many steps are waiting to be completed. This number will increase when you make a post as there will be steps that will be stacked to wait until the appropriate time. If this number is 0, WPL won't get you any links until the next time you make a post (then it'll stack more steps for completion). This number will decrease as WPL completes steps and increase whenever you make a post.
Synd' success
This displays as a percentage the success rate of your syndication. Every failed link is counted here. It's also important to note that after an account has failed to get a link, that account it paused and will not be used. This figure can be affected by the type of link-network used, but if you're using one provided, after around 10 posts this number should be over 80%.

'Link Acquisition Rate' graph.
This is a great way of seeing when links were made, and testing out link-campaigns by cross-checking the graph with any traffic increases or SERP rises. This is a stacked graph, this makes it easier to see total links for that day.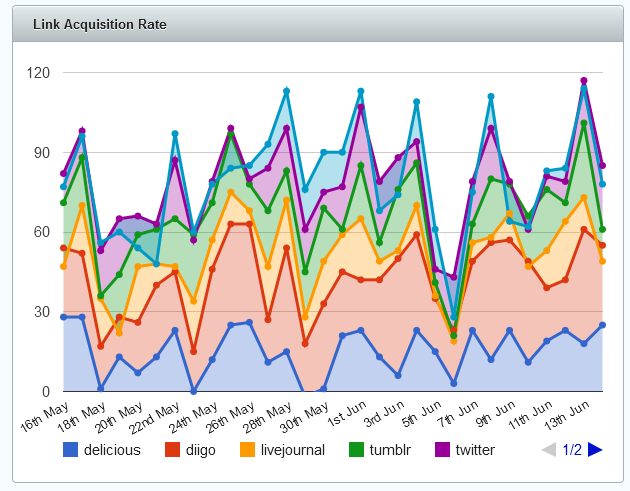 list of the new links

This shows the most recent links that Linker has made
pending steps
This shows (if any) the pending steps waiting to be completed.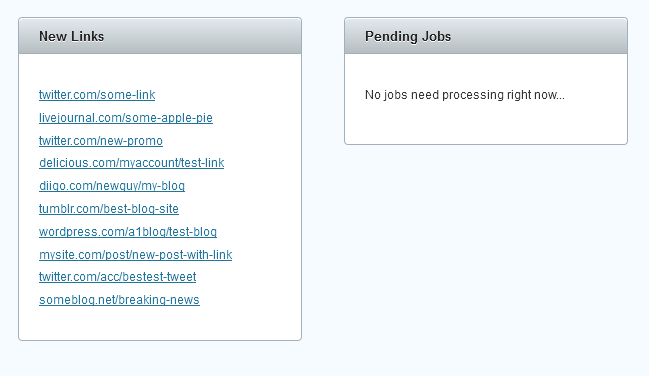 Tweet